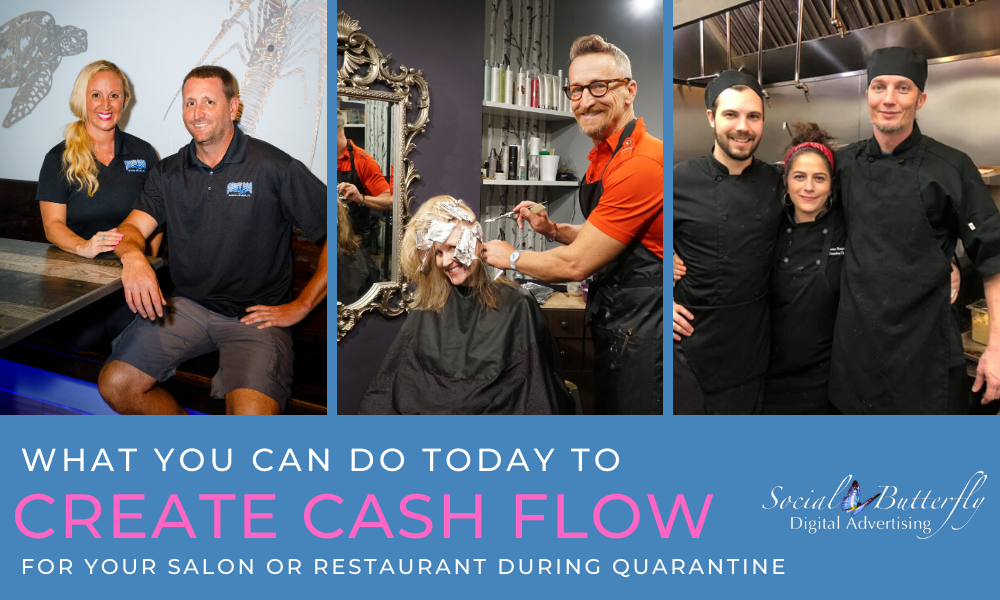 While your salon or restaurant is closed or operating at a reduced volume, here's some ideas of what you can do to generate revenue. Your clients care about you and everyone is looking for ways to help each other and to support businesses. Provide your patrons, clients and fan club with the information they need and want to support you!
Online Gift Cards
Set up online gift cards on your website or online booking. If you don't have a website or online booking set-up, no problem, you can use the SquareUp option below. See resources below for options on setting up online Gift Cards.
Gift Card Promotions
Once your online Gift Card is set up, advertise a Gift Card promotion to encourage larger Gift Card purchases:
Examples:
Salon Gift Card Promotion Ideas…
"Purchase a $100 Gift Card for future services and receive a FREE Deep Conditioning Treatment upon redemption."
"Purchase a $300 Gift Card and receive a complimentary Olaplex treatment upon redemption."
Restaurant Gift Card Promotion Ideas…
"Purchase a $100 Gift Card and receive a free appetizer upon redemption."
"Buy Your Staff Lunch: Buy a Gift Card for 25 Lunches for $250 (Regularly Valued at $275)"
Salons: Accept Pre-Payment for Future Services
Instead of canceling your services with no recourse, re-phrase your client communications and ask clients to pre-pay for future services by purchasing a gift card.
Advertise Your Gift Card & Promotions! Communicate your new online Gift Cards option and promotions to your clients through email, text and social media posts. Your clients are looking for ways to help, and they will appreciate you extending this option to them.
Restaurants Add Food Delivery Service.
While being quarantined, consumers are dying for ways to change things up and many areas have very few food delivery options. Give your patrons the solution they need to get your amazing meals by adding food delivery. No driver, no problem.
Here's links to popular food delivery services that will deliver for you.
https://www.ubereats.com/restaurant/en-US/signup
Resources for Gift Card Set Up:
Here's a list of popular gift card options for 2020.
SQUAREUP
Benefits:
-Works with any website or without a website
-Easy to set up
-No additional fee/ No double fee
Some Gift card platforms charge their own percent fee, in addition to your payment collection fee.
https://squareup.com/us/en/gift-cards
Salon Online Booking with Gift Card Option
Booksy
https://booksy.com/blog/gb/2019/11/18/3-new-ways-to-drive-revenue-for-your-business-with-booksy/
Booker
https://blog.booker.com/the-booker-blog/how-to-create-great-customizable-gift-certificates-this-valentines-day
Vagaro
https://support.vagaro.com/hc/en-us/articles/204348080-How-to-Sell-and-Redeem-Gift-Cards-On-the-Desktop-Version-
StyleSeat
We were unable to find info for StyleSeat Gift Card set up. If it's not available use SquareUp. 
Best Gift Card Options for WordPress Websites
WooCommerce- Plug-in Software for WordPress with a great Gift Card function. 
Benefits:
-Accepts PayPal and most payment options
-No additional fee
https://wordpress.org/plugins/pw-woocommerce-gift-cards/
For assistance with WooCommerce set up on your WordPress website contact our WordPress design partner Jefferies Designs https://jefferiesdesign.com/ 239-601-2833
Compliments of Gibranna LaCava, Digital Advertising Expert, Social Butterfly Marketing