Since 2016 Social Butterfly has had the pleasure of providing digital advertising, social media and marketing services for The Bedrin Organization and Garret Bedrin, Commercial Real Estate Owner, Investor and Partner. In our four years together, the most important thing I've learned from Garret and the Bedrin's is how much relationships matter in all business dealings. With currently 17 shopping centers, 3 salon suite franchise locations and a 169 unit residential apartment complex, Garret still takes time to cultivate relationships with his tenants, employees, investors and partners.
The Bedrin Organization, is a family owned Commercial Real Estate, and Multi-Family Investment Group, owned by Garret, Mike, Jerry and Paul Bedrin. Decades of family values are embedded in The Bedrin Organization's culture, dating back to Jerry and Paul's days as owners of the largest privately owned office supply company in the NJ, Tri-State area. Based on their experiences in brick and mortar retail, and from having been tenants themselves, The Bedrin Organization lives by the motto, "We treat our tenants like our customers". Garret has been infused with these values from a young age and incorporates them into all his business relationships. From working with Garret and the Bedrin's, I've been lucky enough to learn how important building a positive relationship creates a deeper satisfaction in business and amongst all parties.
But how does a busy investor with hundreds of tenants, employees and vendors continue to build and create relationships? From the little things like having their salon suite concierge buy donuts, for their tenants, to the long term brand marketing strategy provided by Social Butterfly Advertising in which we use social media, email, and blogging to exude The Bedrin Organization's message; that they are committed to treating everyone they do business with, with gratitude, respect and kindness.
In The Bedrin Organization's social media, our Social Butterfly team features tenants from their shopping centers and salon suites each week. We've visited many of their shopping center tenants and interviewed them in person, to create authentic blog articles and videos featuring their businesses. We couldn't be happier to work with an organization like the Bedrin's because they give our team the opportunity to celebrate small business owners and show them gratitude everyday. Small business owners are the heart beat of America and will always be our heroes.
But Garret's natural understanding of building relationships goes way beyond social media. I once attended a grand opening party at The Bedrin Organization's
new salon suite location in High Point, NC. One of his tenants, who occupied his largest window suite complained of a funny smell coming from the plumbing that they were unable to fix immediately. Garret's tenant had been admiring and complimenting Garret's shirt all night. Taking his tenant's happiness seriously, toward the end of the party, Garret literally took the shirt off his back and put it on his tenant. His tenant was over the moon thrilled with Garret's gesture and kindness, he really loved that shirt. When I asked Garret what happened to his shirt he turns to me and says, "Whatever it takes Gibranna. Whatever it takes." Wow! That's creating a deeper relationship and not something to be forgotten anytime soon by me or his tenant.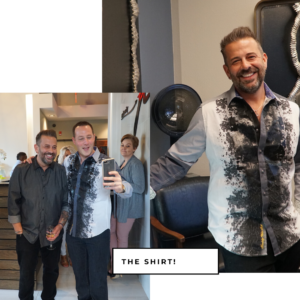 In all of The Bedrin Organization's businesses and investments, Garret creates opportunities for his tenants to gain a sense of community and a deeper sense of purpose. Along with the help of his amazing concierges, the Bedrin's salon suite locations participate in Hello Gorgeous, a makeover program for Cancer Survivors. Participating in a volunteer program, and doing something they love, gives his salon suite tenants the opportunity to give back to the community, work together, and to create a "salon family" bond.
At The Bedrin Organization's multi-family apartment complex, The Hilltop House Apartments in downtown Winston-Salem, the property manager on behalf of The Bedrin Organization hosts pool parties, community pot-luck events, monthly giveaways and other community building events to build a sense of community amongst residents.
It's an honor to carry out The Bedrin Organization's core principles and to help them shine through their digital marketing in an authentic way. From every gesture of kindness, every compliment and little something special Garret and The Bedrin's continually do for those around them, their success has been earned over decades of hard work and is well deserved.